A couple of weeks ago I convinced D that he possibly might have too many T-shirts, and got him to get rid of TWO! Well one was a polo, but the other was a band tee from our good friend Carlos's group: Mars + Venus. They are a pretty wicked modern rock group and we regularly go to their shows.
Now you know how people always have a friend they support even though they don't really like their music so much...or they really just might be terrible? Well not the case for us! We're crazy about them, and I was really excited that I was able to invite my cousin to their last show, he also LOVED them.
*See their fbk/website info below.
So anyways, back to this tee! It was too short for my tall man, even though it was a Large (maybe he unknowingly shrunk it?), so he gave it to me and suggested I attempt refashioning it for myself.

How thoughtful is my guy? He knows I've been jonesing for a refashioning project, but I am SO broke until I start working next month, so I've been avoiding V.Village and the like until then...and sadly, maybe a little bit longer depending on my living sitch.
Anyways...here is a simple tutorial on how to make those unfitted/unflattering band t-shirts just a little cuter to rock at your fave bands' shows!
Here's what I started out with, I forgot to take a Before pic of me wearing it though...I got a little excited. My apologies, next time!

SO first: cut out your neckline...you can make it a little wider for an "off the shoulder" look...but I'd wait until the end of tutorial to do so...this will already be surprisingly wider than you'd think!
This shirt is a few years old, but you gotta love that it's neon...Back in style already! ;)
Next:
Pin along your arms so you can figure out approximately how much you'll want to take in the sleeves.
*you can also just pinch and measure how far to take it in, but that's a little harder to do alone
I wanted tight sleeves.
(you can kind of see here how big it was on me)

Then: I marked it with a chalk line, and re-pinned the sleeve with the pins going across the future seam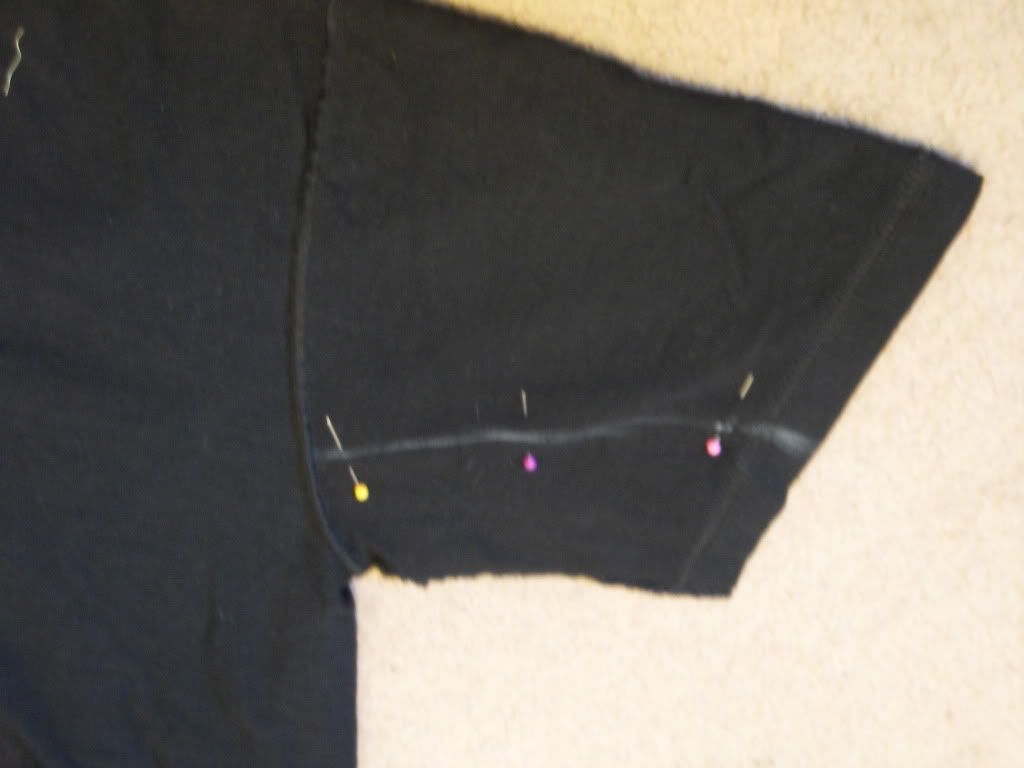 Next: I pinned the sides of the shirt in place to prevent shifting whilst marking, and then eyeballed where I wanted to take the shirt in.
I wanted to accentuate my waist, but I got a little overzealous on the waist and hips area (I didn't touch the hem so it goes pretty long past my hips).
So be careful here!
Weird angle...I apologize for my sub-par photography skills!
I sewed one zigzag stitch along the curved line you see without stopping at the sleeves. Then I did a straight stitch just to the inside of the zigzag because my seams were a little choppy. The straight stitch smoothed the lines out a bit by hiding my weird turns at the curves.
My mom's sewing machine is a whole other ball game than the ones I use at school. Talk about too speedy! But I'm learning.
Cut along the zigzag edge to get rid of any extras:
At this point, try on your tee and decide if you want to cut more off of the neck or not. I just trimmed the seams across the shoulder (they stick up a little pointy) and evened out the cut.
The Final product
I just realized I have no picture without my arms up (which really changes the look...but I wanted to show you the arms) or my blazer hiding it...I shall have to remedy that soon!
Me at the show!
I wore it tucked into "denim" mini and popped a blazer over top, it's still chilly round these parts!
There's a weird reflection going on here...Blame it on the bar lighting?
Don't you love my neon orange hoop earrings, circa my Aunt's closet in the 80's?
Cousin was a little less than impressed...it weirded him out once he found out where I got them from ;)
I originally was wearing some black patent pumps but I took a good wipeout leaving the "pre-party" at D's and couldn't really walk in heels after falling face down on slate stairs..OUCH!
But I still made it out to the show like a champ! And don't fret, my legs got the worst of it.
This is one of my favorite songs:
I was here when they filmed this too!
Do you have any old or oversized tees itching to be refashioned? I'd love to see your Before and After!
<3,
Ern